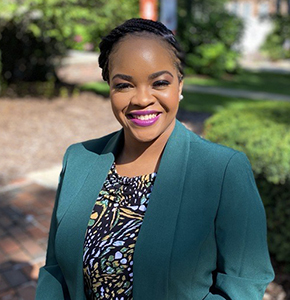 Nicollette Alston
Territory:
States: Washington, DC., Delaware, Maryland, North Dakota, Ohio, South Dakota, Virginia, and West Virginia
Michigan Counties: Barry, Clare, Ionia, Isabella, Kent, Mecosta, Missaukee, Montcalm, and Osceola
Favorite spot in Kalamazoo: I love to walk around Downtown Kalamazoo. Bronson park is so beautiful during the Winter season. The Spirit Shop of Kalamazoo has the best Ice Cream in town. My favorite restaurant is Burdick's.
Favorite spot on Campus: The Quad is always so beautiful, whether it bustling with students and activities, or quiet, clear and serene.