As your goals and program of study change, Kalamazoo College may be an ideal final stop on your undergraduate journey.
We welcome applicants who began their undergraduate work at another institution. Transfer students at K conduct research, study abroad, play sports, and prepare for their future careers, all within a liberal arts education experience.
Transfer Admission Coordinator: Maureen Yanik.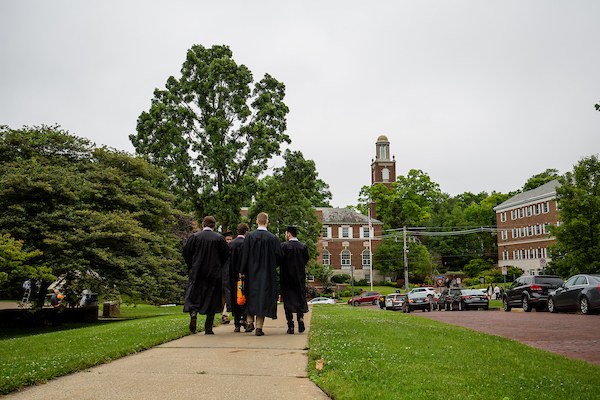 Application Deadlines
| | Fall Quarter (starting in September) | Winter Quarter (starting in January)* |
| --- | --- | --- |
| Application Deadline | June 15 | November 1 |
| Decision Notification | June 22 | November 15 |
| Deposit Due | July 1 | December 1 |
*Review Winter (Mid-Year) Transfers paragraph of the "Before You Apply…" section below.
Application Materials
Kalamazoo College accepts the Common Application exclusively. We do not require an application fee, and have been test-optional since 2015.
In addition to the Common Application, the following documents are required for a completed transfer application:
Final high school transcript or its equivalent: Accepted transcripts must show date of graduation, all courses taken, and grades earned in those courses. If a high school experience includes dual enrollment courses, and the transcript does not detail names of dual enrollment courses or grades earned, the College requires the transcript from the college/university of dual enrollment as well as the final high school transcript.
Official transcripts from all colleges/universities attended: Includes all colleges attended as either degree-seeking or guest student after completion of high school or its equivalent. Transcripts showing all courses completed and grades completed are preferred; however, applicants with one year of previous college experience can submit, for example, transcripts showing grades for fall term courses completed and scheduled spring term courses by the June 15 deadline. On a case-by-case basis, application reviewers may delay rendering an admission decision until after a transcript showing all courses completed can be submitted.
College report from last college/university attended: This document, found through the Common Application, affirms that the applicant is in good standing at their previous college experience, with no outstanding holds that might impact an admission decision (e.g., conduct violations, academic holds). The campus administration office which manages release of an official transcript (e.g., registrar, student records, transfer coordination office) typically completes the "To The College Official" section beginning at the bottom of the first page; the applicant completes the information at the top. Completed forms can be sent directly to the transfer admission coordinator or admission@kzoo.edu.
Academic evaluation: Equivalent to a teacher recommendation, this document is completed by an instructor, preferably in a college or university environment, regarding classroom performance.
How K Defines a Transfer Applicant

Completion of high school and receipt of a diploma (or any equivalent)
Previous matriculation and enrollment into any degree-seeking institution
No prior enrollment at Kalamazoo College
Before You Apply…

In most cases, successful transfer applicants present grades of a B average or better in their current courses.
Transfer applicants are strongly encouraged to apply for admission by May 1 for entry into our fall term.
Winter (Mid-Year) Transfers: While most of our transfer students find fall the optimal time to transfer into the College, we do offer admission into our winter quarter (January). Successful winter transfers typically have completed at least one full year as a matriculated student at their previous college or university, and earned a cumulative college grade-point average of 3.3 or higher. The matriculation period and orientation for winter transfers are significantly shorter than for fall transfers, on-campus housing is offered only on a space-available basis, and campus closure during Thanksgiving and winter breaks can create delays in new student processing. Interested applicants are strongly encouraged to consult with our transfer admission coordinator before choosing to apply as a winter transfer.
Financial Aid: Transfer students are eligible for merit scholarships within the same range as first-year students.
Residential Life: Transfer students, depending on their student classification, are typically required to live and board within the College's housing and dining system. Please reference our Housing and Board Requirements, and contact the Office of Residential Living at reslife@kzoo.edu for additional questions.
Parking: Transfer students classified as first-year students may not be eligible to obtain parking permits. Please reference our Motor Vehicle and Parking Policy, and contact Tim Young, Director of Campus Safety, for additional questions.
Transferring College Credit

The Office of the Registrar consults with departmental faculty to determine how previously earned college coursework transfers to a K curriculum.
Transfer students receive a transfer credit evaluation shortly after their offer of admission has been released, indicating class standing and course units accepted. Admission staff cannot evaluate college transcripts for transfer credit prior to admission.

Transfer students can transfer up to 18 total units out of the 36 required toward graduation from a previous college or university experience. All work to be considered for transfer credit must be submitted on an official transcript mailed directly from the transfer institution to the registrar. Please refer to the Transfer Credit – Continuing Students section of the

Placement and Transfer Information

page of our academic catalog for more details.

Use our Course Equivalency Guide to research how coursework from select Michigan colleges and universities might transfer to a curriculum at K.
The College cannot guarantee that credit accepted for transfer will automatically apply toward a major or graduation.
---