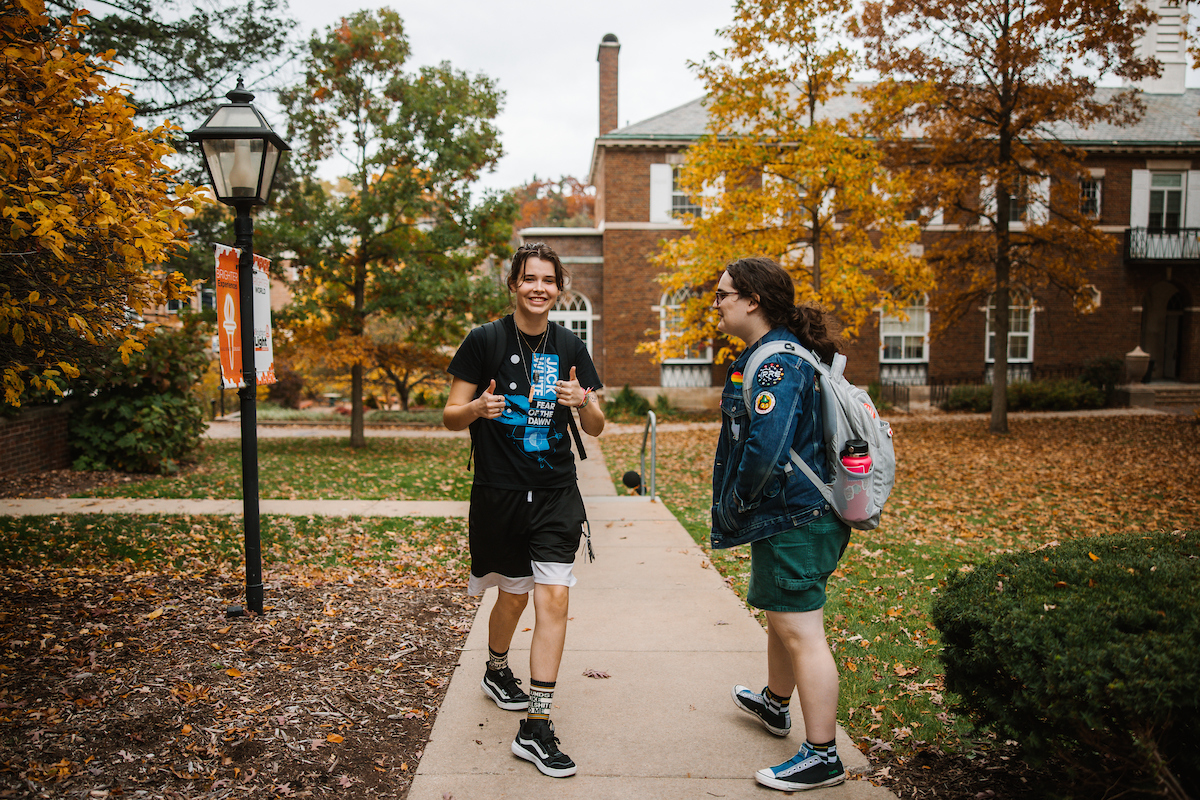 Are You a First-Year Student?
At K, we consider you to be a first-year student if you are:
Currently completing a high school or homeschool curriculum, or their equivalent.
A high school graduate who has not enrolled yet at a college or university.
An early or middle college student who completed a high school diploma at the same time as an associate degree.
Not a U.S. citizen or permanent resident? Please review our International Students admission page for more information.
Application Deadlines
| | Application Deadline | Notification Letter Mailed | Deposit Due |
| --- | --- | --- | --- |
| Early Decision (binding decision) | November 1 | December 1 | January 15 |
| Early Action | November 1 | December 20 | May 1 |
| Regular Decision | January 15 | April 1 | May 1 |
Application Materials
Common Application: Kalamazoo College accepts the Common Application exclusively. We do not require an application fee and have been test-optional since 2015.
High School Transcript: This includes all transcripts from dual enrollment or early/middle college programs. Transcripts should be sent from your high school or college directly to the Office of Admission, either through online services or regular mail.
Counselor Recommendation/School Report: Contact your admission counselor if your high school counselor is unable to complete a recommendation by your application deadline.
Teacher Recommendation: We also accept alternative references (e.g., coaches, employers, pastors, friends of the family).
Frequently Asked Questions
How does K evaluate my application?

Academic Performance/Trend in Grades – How well do you perform in core subject areas? This includes looking at your GPA, grades in individual classes, and noting trends in your grades. Contact your admission counselor if you are concerned about how we might evaluate your academics.

Academic Rigor – How have you challenged yourself academically, using the resources available at your school? Have you taken Advanced Placement or International Baccalaureate courses? Dual enrolled at a local community or city college?

Extracurricular Activities – Sports, clubs, artistic endeavors, part-time jobs, community service, family responsibilities…what do you do outside of the traditional classroom setting that contributes to your community or engages your interests? How deep is your level of interest in those activities? Do you have a leadership role?

Application Essay – What kind of a writer are you? How do you see your world? Can you tell us a story about yourself?
How does Kalamazoo accept AP, IB, or dual enrollment coursework I completed in high school?

The Office of the Registrar determines how dual enrollment, Advanced Placement (AP) and International Baccalaureate (IB) coursework transfers to a curriculum at K. Check out their Transfer, AP and IB Credits page for more information.

For a select set of Michigan colleges and universities, the Registrar maintains a Course Equivalency Guide, which shows a list of courses accepted in the past and how they might transfer as credit towards graduation.
I applied last year. Can I reactivate my application, rather than submitting a new one?

If you have previously applied to Kalamazoo and would like to reactivate your application, please contact our office. We may ask you to send a final version of your high school transcript. Applicants who attended a college or university after declining an offer of admission will need to re-apply as a transfer student.
How do homeschool students apply for admission?

Kalamazoo College values the diverse experience homeschool students bring to our campus. Because we want to evaluate each homeschool student's unique curriculum and experience, we require that in addition to completing the Common Application for admission, all homeschool students must:

Interview with an admission counselor. These meetings help admission counselors learn more about your homeschool experience directly from you, and may be conducted on campus, off-campus, or in a virtual session. Request an admission meeting, and your admission counselor can schedule a time that works best for you!
Submit letters of recommendation. In addition to the required teacher recommendation letter (which may be completed by a family member who fills that role), you must submit a reference from a non-family member, such as a tutor, employer, or coach.
Provide an academic portfolio. If you are currently enrolled in a national degree-granting organization, or if you are taking courses at a community college or other post-secondary institution, submit an official transcript. If not, we may ask you to submit a detailed syllabus that lists the subjects studied each year and a brief description of each course. If no grades are provided, please include the narrative evaluation for each course.